Country facts
Total population: 11.1 million
People displaced by conflict: 4.2 million (4 out of every 10)
Rank in Human Development Index: 184 of 188
IRC response
Started working in Burundi: 1996
Burundi crisis briefing
Burundi, a landlocked country in the Great Lakes region of East Africa, has been engulfed by conflict since the early 1960s. The IRC has provided critical support over the past two decades and now, in the midst of the latest political crisis, we are there to assist the most vulnerable.
What caused the current crisis in Burundi?
Bouts of ethnic conflict have turned Burundi into one of the world's poorest countries. The nation's most recent civil war ended in 2005 and left 300,000 dead and sent 500,000 fleeing to neighbouring Tanzania.
In 2015, violence broke out again following a contested presidential election. Another 260,000 Burundians left the country and tens of thousands are internally displaced.
Due to allegations of human-rights violations, lack of a free press and an unwillingness to engage in sincere negotiations, Burundi is shunned by humanitarian donors; most  have suspended bilateral aid to the country, a loss amounting to half of the government's budget. Already considered the hungriest country in the world prior to the current crisis, Burundi has been plunged into an economic quagmire with no end in sight.
What are the main humanitarian challenges in Burundi?
Burundi's current political and economic crises are exacerbating an already dire humanitarian situation, according to the United Nations.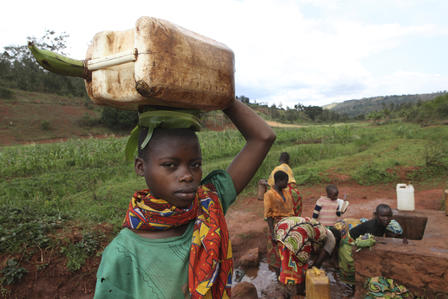 Key areas of concern include the deterioration in basic services and access to livelihoods; a lack of protection and human-rights violations; and the growing vulnerability of affected communities to social unrest and ennui.
These challenges continue to provoke displacement of populations inside Burundi and to neighbouring countries. Government services have been reduced and donor interest remains weak. Living conditions and food security continue to deteriorate in a country that already was among the least developed in the world.
How does the IRC help in Burundi?
The IRC's mission is to help people whose lives and livelihoods are shattered by conflict and disaster to survive, recover and gain control of their future. We first began assisting Burundians in 1996, providing lifesaving interventions and emergency assistance to refugees and internally displaced people. Over the years, we helped the country rebuild following civil war.
Now, as the country is once again gripped by crisis, the IRC is focusing our efforts along Burundi's border with Tanzania (Makamba, Rutana, Ruyigi and Mutinga province), as well as in and around the capital, Bujumbura, by:
providing emergency relief
helping young people succeed by providing life skills and job training
reuniting separated children with their families and helping them transition back to school and family life
deinstitutionalising children living in orphanages
encouraging women's empowerment and improving services for victims of gender-based violence
helping to manage refugee camps in Burundi
working to safeguard the human rights and well-being of recently returned refugees
increasing access to justice in communities
What still needs to be done?
Burundi is, and will remain, a fragile state for years to come. The current political turmoil and plummeting economy are catalysts for the deteriorating humanitarian situation.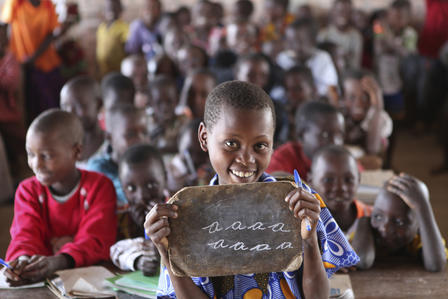 We will continue to contribute toward creating a safe and protective environment for vulnerable communities, particularly women, girls and boys, through health, protection and education interventions. We will also work to narrow the gender gap between men and women, and boys and girls.
We are working to achieve our goals in the following areas by 2020:
Health
Women's protection and empowerment has been a success story for the IRC in Burundi, and we plan to build upon that success by ensuring that women and girls are protected from and treated for the consequences of gender-based violence.
Safety
The IRC will work to ensure women and children are safe at home from both violence and natural disaster. Additionally, we will focus on combating child labour to get boys and girls back in the classroom.
Education
Investing in education for Burundi's children is crucial. The IRC plans to focus on children up to 5 to ensure they attain age-appropriate levels of literacy and numeracy, as well as social and emotional skills.
Economic wellbeing
As the economic situation in Burundi worsens, the IRC will continue to focus on village savings and loan associations to bolster self-sufficiency.
Additionally, given Burundi's position as one of the world's hungriest nations, the IRC will spearhead programmes to increase food security.  
The IRC will crosscut economic empowerment initiatives with women's empowerment programming to narrow the gender gap for women and girls.
Download the IRC's Burundi strategy action plan to learn more about our program priorities until 2020.
43,000
men, women and children with gender-based violence prevention workshops in their communities.
People deserve to feel safe in their home. In Burundi, we're working to combat violence against women and girls through gender-based violence prevention efforts.
Watch our video.
6,100
people with membership to village savings and loans associations to bolster self-sufficiency and economic empowerment.
3,300
children under 5 with access to education programs to increase pre-literacy, pre-numeracy, and social and emotional skills.