Country facts
Population: 11 million
Refugee population in Greece: 60,000+ (over half of them women and children)
Rank in Human Development Index: 29 of 188
IRC response
Started work in Greece: July 2015
People assisted: 13,618 (one quarter of all refugees in Greece)
People we hope to reach in 2016: 16,000
Greece crisis briefing
Over one million people in search of sanctuary have travelled through Greece since 2015. Although the Greek government has created temporary housing for the tens of thousands stranded by the EU-Turkey agreement, many of these camps do not meet accepted humanitarian standards.
What caused the crisis in Greece?
In a word, conflict. The majority of refugees passing through Greece come from Syria, Afghanistan, Iraq, and other countries rocked by war and violence. They all seek sanctuary in Europe.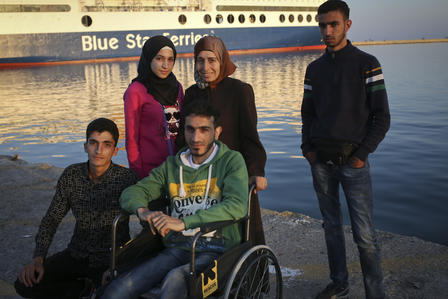 The context of the crisis continues to evolve. August 2016 has seen a slight increase in the number of arrivals with an average of 43 people landing on Lesbos daily. Meanwhile, tens of thousands of people remain stranded in Greece both by border closures along the Balkan route and by the EU-Turkey agreement. Many people are separated from family members who had already made it to other countries in Europe.
Relocation and asylum procedures are under-resourced and information scarce and unreliable. Refugees wait in temporary camps where conditions are poor. There are long queues for food, water and showers. Children go unschooled, their parents cannot find work. Many suffer from emotional distress and most can see no improvement for the foreseeable future.
What are the main humanitarian challenges in Greece?
The EU-Turkey agreement has stranded an estimated 60,000 people in Greece, and although the Greek government has created temporary housing sites, many do not meet accepted humanitarian standards. The IRC is committed to working with the government and local aid partners to improve conditions at existing sites and identity more suitable accommodation.
Meanwhile, refugees need up-to-date, reliable information about transportation options and asylum services as well as psychosocial support to help them recover from their ordeals. Children need places to learn and play. Women, a substantial number of whom are travelling alone or with children, need protection and specialised services.
With conditions deteriorating and legal routes into Europe closed, refugees inevitably will turn to more dangerous options to reach the sanctuary they seek.
How does the IRC help in Greece?
The focus of the IRC's work is threefold: environmental health, protection and information, and economic recovery and development. To improve conditions in each category, we have:
provided clean toilet and shower facilities with hot water and laundry points across four sites in northern Greece and at the Kara Tepe refugee camp on the island of Lesbos
opened three safe learning and healing spaces for children at Alexandria, Giannitsa and Cherso
created safe spaces at five sites that accommodate approximately 350 women daily
provided one-to-one support services by IRC protection teams
educated refugees enduring crowded conditions about disease prevention, recycling practices and food disposal
employed a team of 30 cleaners to remove rubbish and clean facilities and sites
distributed essential hygiene items from hand wipes to toothpaste to laundry powder
provided minibus transport for people in Kara Tepe to the capital of Lesbos where they could access asylum, relocation and family reunification services as well as receive healthcare
provided emergency prepaid debit cards to refugees for use at local markets
provided information about transportation options as well as asylum and relocation services to 20,000 visitors a month via RefugeeInfo.eu
What still needs to be done?
The IRC is committed to working with the Greek government to improve conditions at existing housing sites and identify suitable alternatives. We are providing support networks for vulnerable women through our safe spaces and on-site protection teams. And we are educating people about the dangers posed by unscrupulous traffickers seeking to exploit refugees unable to legally continue their journey into Europe.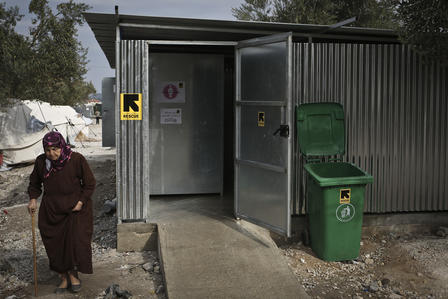 The IRC is working to meet outcomes and improve challenges in the following areas:
Health
Ten psychologists are providing counselling, one-to-one support and other mental health services in northern Greece and on Lesbos, focusing on survivors of gender-based violence and vulnerable children.
Safety
In addition to five existing sites, the IRC is opening two new safe spaces for women. We are working to improve fencing and lighting in housing sites. And we are launching a programme to care for unaccompanied children in Alexandria and a second site to be confirmed.
Education
The IRC plans to create more safe learning and healing spaces for children, offering them the opportunity to recover emotionally through play and learning.
Economic wellbeing
Refugees across multiple sites in Greece will be provided with prepaid debit cards that are automatically topped up each month, allowing people to regain some control over their daily lives and purchase goods and services they need.
Power
The IRC will continue to provide information in multiple languages to ensure refugees are aware of their rights under international law. The IRC will continue to advocate for better asylum services and legal routes into Europe.