Country facts
Population: 196 million
People displaced by crisis: over 2.1 million
Population in need of humanitarian aid: 10.6 million
Rank in Human Development Index: 158 of 189
IRC response
Started work in Nigeria: 2012
People assisted in 2019: Over 1.3 million
People we hope to reach per year: 1.5 million
Nigeria crisis briefing
Nigeria, the most populous country in Africa, has endured decades of political instability and economic inequality. Ongoing violence continues to force people to flee their homes in the northeast and other conflict zones to seek safety in other parts of the country. The IRC provides displaced Nigerians and vulnerable host communities in the northeast with access to health care, nutrition, sanitation and education. 
For every £1 donated to our Protecting Milestones appeal between 3 May and 3 August 2022, the UK government will contribute £1 of UK aid to fund a new programme to treat malnutrition in Nigeria, up to £2 million. A generous IRC donor will also match the original donation, meaning your gift will go three times as far. Your support, and the matching funds provided by the UK government, is vital to funding the IRC's life-changing programs around the world. The funds provided by the UK government will go to a new programme to treat malnutrition in Nigeria.
What caused the crisis in Nigeria?
Nigeria is a diverse country with areas of great wealth and profound poverty. Despite massive oil revenues, nearly two-thirds of Nigeria's population lives in poverty, especially in the marginalised and underserved northern and northeastern regions. The country's vulnerability to drought, flooding and other forms of extreme weather also contributes to the chronic malnutrition and frequent outbreaks of disease that have affected more than 13.5 million people.
Although decades of military rule ended when Nigeria regained democracy in 1999, the country has been plagued by political, economic and social challenges that threaten the consolidation of gains made since its transition to civilian government.
Since 2014, the world's deadliest militant group, Boko Haram, has killed thousands of people, abducted thousands of women and children, and uprooted over 2.5 million people. Many Nigerians who fled to neighbouring Chad, Cameroon and Niger have been forced to return because of deteriorating conditions in those nations. Well over 2 million people have been internally displaced: the continuous conflict has forced people to live in camps in the outskirts of towns of Borno state, where they are enduring violence, poverty and constant insecurity.
What are the main humanitarian challenges in Nigeria?
Although Nigeria is one of Africa's leading oil producers, more than half its population lives in poverty. Since the onset of the COVID-19 pandemic, the number of people in need of humanitarian assistance in northeast Nigeria has spiked to 10.6 million, with another 3.8 million struggling to access enough food.
There are now over 2 million displaced people in the northeast, where the hunger crisis has reached emergency levels. These uprooted families are in acute need of food, clean water, shelter, education and health care. The conflict has led to the destruction of 66 % of health facilities in Borno, Adamawa and Yobestates.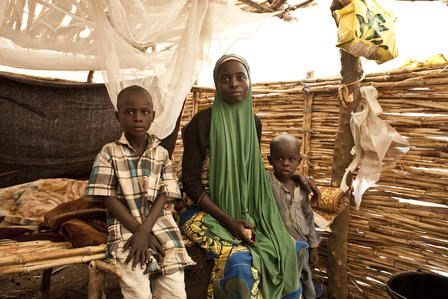 Just 8% of this displaced population lives in official camps and receives government support. Children who have lost parents to the conflict or have been separated from family are especially vulnerable. Women and girls have been subjected to sexual violence and enslavement. The COVID-19 pandemic has only worsened the situation: families have lost their livelihoods, falling into deeper poverty, and health facilities have been stretched beyond capacity.
Funding needed to address the magnitude of the humanitarian situation in Nigeria is falling short. Humanitarian responders have been able to reach only a fraction of people in desperate need. 
How does the IRC help in Nigeria?
The IRC's mission is to help people whose lives and livelihoods are shattered by conflict and disaster to survive, recover and gain control of their future.
We first began assisting Nigerians in 2012, providing aid to over 800,000 people who lost their homes after a massive flood. In 2014, we launched an emergency response in the city of Yola, where we provided water, food and emergency shelter; health and nutrition services, informal education and protection services for tens of thousands of people affected by conflict. In 2019, the IRC expanded our support for the most vulnerable, with several rural health clinics, nutrition centers, and safe spaces for women and children. The IRC now has offices in Yola, Mubi, and Maiduguri, all in the northeast. 
As the country struggles to recover from relentless terror attacks, the IRC is focusing our efforts in northeastern Nigeria by:
working with local health facilities to reduce malnutrition and improve water, sanitation and hygiene;
constructing water distribution systems and sanitation facilities for displaced people living in makeshift shelters;
distributing mosquito nets and essential household items;
organising safe spaces where children can play and regain a sense of a normal childhood;
providing classes for displaced children to advance their reading and math skills;
providing programmes for women and children who have suffered from violence and abuse;
providing support for displaced people who fled their homes due to violent conflict in Borno, Adamawa and Yobe states, who are now trying to rebuild their lives.
What still needs to be done?
Ensuring people are protected from violence and have access to enough food remains critical: a large percentage of the population suffers from malnutrition. Women, girls and other vulnerable groups are subject to exploitation and abuse, and children often have no access to education.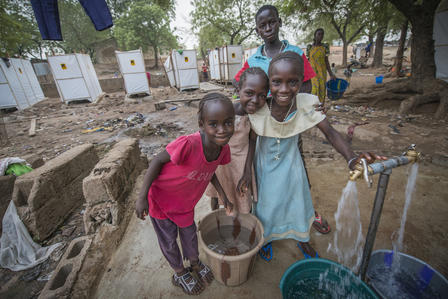 The global humanitarian response to the crisis in Nigeria has been insufficient to serve the millions of people displaced by violence and natural disasters. Sustainable gains in Nigeria will require not only increased aid but new emphasis on helping people affected by crisis to earn enough income to meet their basic needs. Improving the economic wellbeing of women and girls will be a particular focus for the IRC over the next few years.   
Download the IRC's Nigeria strategy action plan to learn more about our programme priorities.
The violent seven-year conflict originating in Nigeria has intensified in the last three years and spread across borders into Chad, Niger and Cameroon, causing a growing humanitarian crisis in a region known as the Lake Chad Basin. Read recommendations from the IRC and other aid groups working in the region.