Country facts
Population: 11.3 million
People displaced by crisis: 2 million
Rank in Human Development Index: 169 of 188
IRC response
Started work in southern Sudan: 1989
People assisted: 800,000
South Sudan crisis briefing
The region of southern Sudan had spent decades in the grip of ongoing conflict before South Sudan gained independence in 2011. The IRC provides lifesaving assistance and humanitarian aid to vulnerable South Sudanese who are trying to survive conflict, a hunger crisis, rebuild their lives and restore peace.
What caused the current crisis in South Sudan?
After decades of civil war, southern Sudan seceded from Sudan in 2011. The new country, South Sudan, enjoyed two years of fragile peace before political rivalry erupted once again into open conflict in 2013, leaving 10,000 dead and 2 million displaced.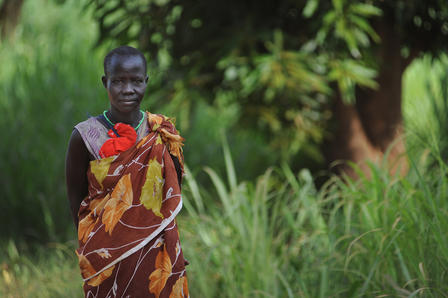 Despite a peace accord signed in August 2015, South Sudan faces increasing violence, remains on the verge of economic collapse and continues to struggle with widespread food insecurity. More than 1.6 million people have fled the country as refugees, creating Africa's largest refugee crisis.
Ongoing conflict, coupled with drought and economic collapse have left millions of people struggling to get enough food.
On February 20, 2017, a famine was declared in parts of South Sudan's Unity state—the first time in six years that a famine has been declared anywhere in the world. The United Nations children's agency, UNICEF, estimates that some 100,000 people are already facing starvation, with 1 million more on the brink.
The U.N. Security Council describes the food crisis in South Sudan as the worst in the world, but the omnipresent threat of violence has limited the ability of aid groups to reach those most in need.
What are the main humanitarian challenges in South Sudan?
South Sudan remains one of the poorest and most undeveloped countries in the world. Food shortages caused by fighting and flooding afflict millions of people.
There is also a severe shortage of health care services and professionals (only once doctor for every 100,000 people). Medical facilities are under-equipped and unhygienic. Since many South Sudanese do not have access to clean water, deadly diseases such as malaria continue to spread.
Women and girls, in particular, are affected by the crisis, many facing violence, abuse and exploitation daily. Thousands lack the care they need to cope with unwanted pregnancies and pregnancy complications.
How does the IRC help in South Sudan?
The IRC's mission is to help people whose lives and livelihoods are shattered by conflict and disaster to survive, recover and gain control of their future.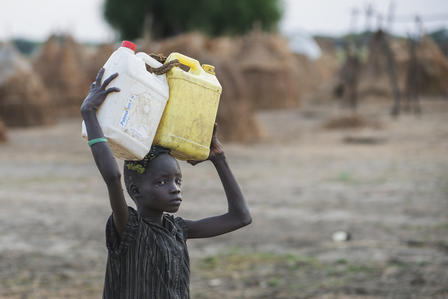 The IRC has been one of the largest providers of aid in southern Sudan for over 20 years, offering emergency assistance throughout decades of war. While we have been forced periodically to suspend our efforts due to violence, the IRC continues to provide lifesaving support to vulnerable South Sudanese in hard-to- reach areas.
As South Sudan struggles to build a lasting peace, feed its people, and keep them safe from harm, the IRC is focussing our efforts in the Central Equatoria, Northern Bahr el Ghazal, Unity and Lakes states by:
expanding the capacity of state clinics and training local health workers to provide basic and reproductive health care;
providing medical, psychosocial and legal support to survivors of sexual violence;
training community leaders and government officials on the importance of upholding human rights;
restoring wells and providing sanitation services to prevent the spread of disease;
providing returning South Sudanese refugees with emergency aid as well as job and livelihoods training.
What still needs to be done?
Violence and insecurity continue to make it difficult for aid workers to reach those most in need. The IRC is urging the government of South Sudan to work with the United Nations to ensure access to populations most in need.
We are also calling for an immediate increase in humanitarian funding to the regions affected by crisis. Nigeria, Somalia, and Yemen are also on the brink of famine as they struggle to respond to drought, rising food prices and a lack of food.
Download the IRC's South Sudan strategy action plan to learn more about our programme priorities through 2020.
551,000
people with access to primary and reproductive health care.
Each year, millions of people -- particularly women and children -- die from preventable causes in countries affected by violent conflict and natural disasters.
Learn about our health work.
45,000
men and women with information on preventing and responding to human rights abuses.
We want people to have control over important choices that affect their lives – in particular, where and how they live, and how they are governed.
Explore our empowerment work.
4,000
farmers with access to markets and farm resources, including fertilisers and seeds.